A Breakfast to Remember at Acropolis View Hotel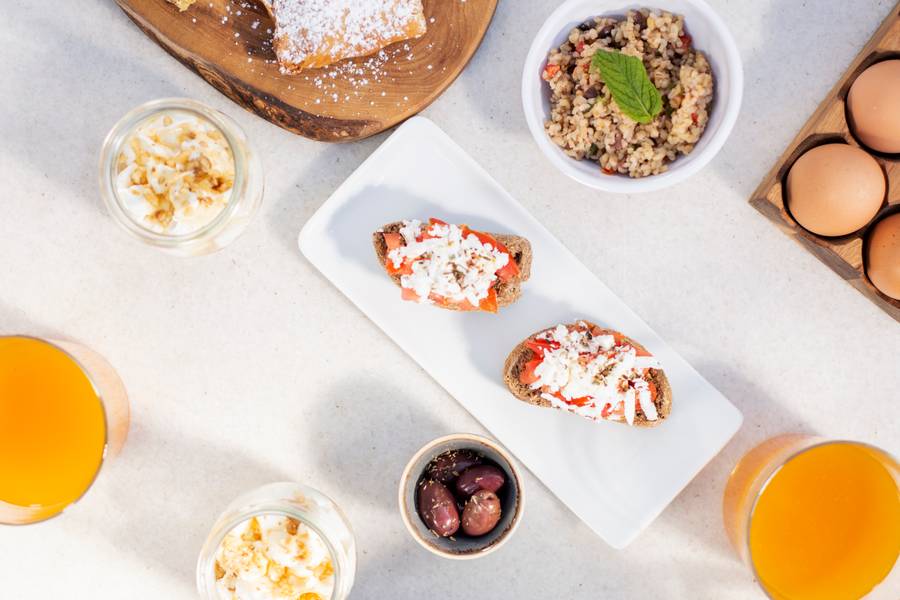 Located in the historic center of the city, Acropolis View Hotel offers breathtaking views of the Parthenon. The hotel is renowned for its amenities and commitment to sustainability, enveloping guests in a calm sense of total comfort, ensuring a peaceful and restful stay. Stepping out onto your private balcony will enchant you with stunning views of the Herodion Theater and Parthenon.
Breakfast is served on the hotel patio, which overlooks the Acropolis. We strive to make the breakfast experience as authentic as possible, offering seasonal, locally sourced fruits and vegetables that reflect the traditional cuisine of Greece. By doing so, we reduce our energy use and ensure that our guests receive high-quality products. Sustainability is a key consideration in our hotel policies, and we take great care in creating our menu items.
We embrace the farm-to-table philosophy, sourcing our ingredients from top producers in Attica and other parts of Greece. This method is not only sustainable but also benefits everyone involved. Our breakfast items require fewer energy sources when sourced locally. We prioritize the seasonality of our raw ingredients and source them as locally as possible.
Our fruits are sourced from growers who appreciate their surroundings and adhere to ethical sustainability principles. Pomegranates, kiwis, apples, quinces, and Aegina pistachios are featured in our autumn breakfast menu. Walnuts, chestnuts, oranges, grapefruits, lemons, tangerines, and olives can be found in winter. Strawberry season and sour cherries are available in spring. Persimmons, Cretan bananas, tomatoes, watermelons, eggplants, peaches, nectarines, apricots, plums, cherries, melons, prickly pears, and figs are some of the seasonal summer fruits.
We offer a unique opportunity for our visitors to experience Athens like locals through our authentic cuisine. The Acropolis View Hotel embraces the farm-to-table philosophy, prioritizing our guests, respecting Greece, and loving Attica's soil.
Respect and appreciation for mother earth are crucial for the good of our planet. Come and have a traditional breakfast to learn about authentic Greek cuisine, experience the Athens sunset from our restaurant's tables, sample local fare, and create lifelong memories.
If you plan to stay in Athens for a few days or longer, the Acropolis View Hotel is the perfect choice. You can mix your vacation with sustainability while still being in the heart of the city with easy access to the main sights. Our excellent local fruits and vegetables served for breakfast will undoubtedly leave a lasting impression. We eagerly await your visit, so you can stroll through, enjoy, feel, and experience Athens as we do.