Tips for Exploring the Unique Neighborhood of Koukaki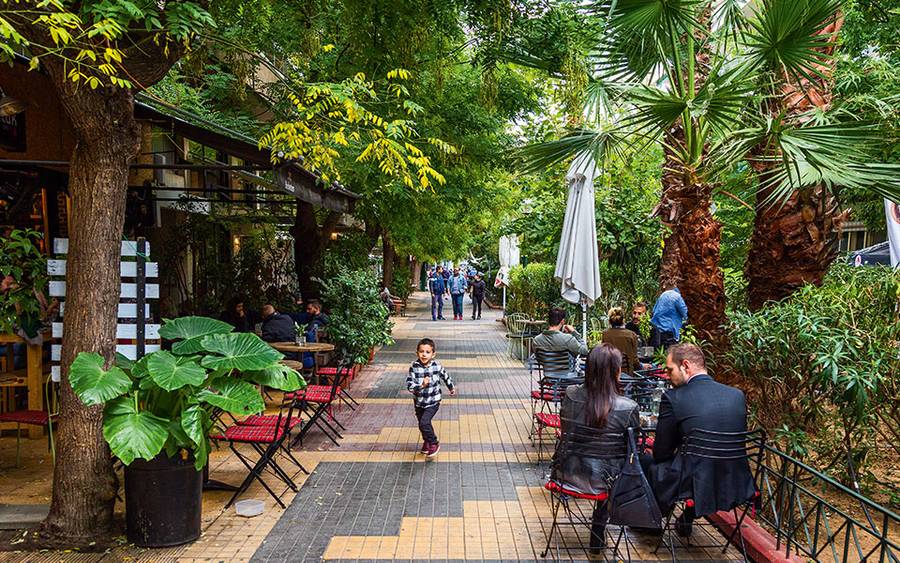 Koukaki is a vibrant and trendy neighborhood located in the heart of Athens, just a stone's throw away from the Acropolis. It is a neighborhood filled with talented people who love what they do, and there are plenty of unique experiences to be had here. In this article, we will share some tips for exploring Koukaki and discovering its hidden gems.
Takis Bakery
If you're a foodie, then Takis Bakery is a must-visit. This local bakery offers around 30 different kinds of bread, as well as traditional spinach pies, sandwiches, and a variety of cakes and mini bites. The bakery is family-owned and has been serving fresh, homemade baked goods since the 1970s. The staff are friendly and always happy to explain the vegetarian options available.
The Ilias Lalaounis Jewelry Museum (ILJM)
The
ILJM
is located in the heart of Athens, just a short walk from the Acropolis and other major tourist attractions. It's a must-see destination for anyone interested in jewelry-making, decorative arts, and the rich cultural heritage of Greece.
The Museum acts as an international center for jewelry and decorative crafts, with an emphasis on silver and goldsmithing as well as contemporary studio jewelry. In the Permanent Collections visitors can follow the life work of Ilias Lalaounis. Six sections display a selection of 4.500 pieces from the museum's collections according to the vast inspirational sources of his work.
Aside from the permanent collections and library, the museum also hosts temporary exhibitions, educational programs, and special events throughout the year. These events are designed to promote the art of jewelry-making and decorative crafts and to engage visitors of all ages in the museum's mission.
MANIMANI - Traditional Greek in a modern delivery
Another must-visit spot in Koukaki is MANIMANI, a charming restaurant located in a two-floor neoclassical building. This restaurant is all about bringing back traditional Greek flavors and presenting them with a modern twist. Inspired by the cuisine of Lakonian Mani,
MANIMANI
offers a range of delicious dishes made with locally sourced ingredients, such as handmade pasta from a small cooperative in Githeio, "siglino" (traditional ham) from Mani, and organic roosters. Many of the recipes are passed down from the owners' grandmothers, making it a true homage to the traditional cuisine of the area.
As you sit down to enjoy your meal, take in the charming ambiance of the restaurant, which perfectly blends old-world charm with modern design elements. With its cozy atmosphere and friendly staff, MANIMANI is the perfect spot for a relaxing and delicious meal after a day of exploring the historic city of Athens. Don't miss out on this unique culinary experience in the heart of Koukaki.
Koukaki Flea Market
Finally, for those who love vintage and handmade items, the Koukaki Flea Market is a great place to explore. This outdoor market is held every Sunday and offers a variety of unique items, from vintage clothing to handmade jewelry, ceramics, and more. It's a great place to browse and discover hidden gems while experiencing the vibrant atmosphere of Koukaki.
Filopappou Hill or Mouson Hill
In addition to the great places we've already mentioned, the neighborhood around Acropolis View Hotel has another must-visit destination: Filopappou Hill. This historic hill offers incredible views of the Acropolis and the surrounding city, and it's a popular spot for locals and tourists alike to take a peaceful stroll or have a picnic. At the top of the hill, you can find the Philopappos Monument, which was built in honor of a prominent ancient Greek statesman and is a great place to take photos and learn about the area's history.
Surrounding Filopappou Hill are several unique neighborhoods, each with their own character and charm. From the trendy district of Koukaki to the historic district of Petralona, there's plenty to explore and discover. You can also visit the Dora Stratou Theater on the south side of the hill, which hosts traditional Greek dance performances and is a great way to experience the country's rich cultural heritage. With so much to see and do in the area, Filopappou Hill and its surrounding neighborhoods are not to be missed during your stay at Acropolis View Hotel.
Koukaki
is a unique and vibrant neighborhood that is definitely worth exploring. Whether you're a foodie, a vegan, a cocktail lover, a jewelry enthusiast, or a fan of vintage and handmade items, there is something here for everyone. So, give Koukaki a chance and discover its hidden gems!
Photo credit: © Perikles Merakos |
source